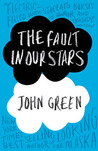 The Fault in Our Stars by John Green
My rating: 3 of 5 stars
I've read all of John Green's books (except An Abundance of Katherines) and this is my least favourite. Look, I liked it, it was OK, but the whole time I was reading I knew I was being manipulated. As an adult reader of fiction for young people it is sometimes pretty easy to figure out what's going to come next, or what will happen in the end, and sometimes that doesn't matter, or it's so cleverly done that you don't mind, even though you know the author is making you 'feel things'. But with TFiOS I knew and it was obvious and it was clumsy and I felt ripped off.
Maybe because Paper Towns and Green's collaboration with the fabulous David Levithan, Will Grayson, Will Grayson, were sooooo much better. Maybe because Hazel and Augustus are so bloody nice. Too nice! Maybe because Green is hitting you over the head with the music and reclusive author and illness and death, all the death. It's not a subtle book.
And yet I did care about Hazel and Gus, and understood and remembered what their devotion to each other to the exclusion of all others had felt like to me as a teenager. And I particularly understood the anguish of their parents, torn between wanting their kids to experience life and wanting to put them in a box lined with an electric blanket and a fleecy, as if they were newborn kittens needing protection from the world.
There are flaws in this book, for sure, but they are not deal-breakers in any way. Do yourself a favour and read Paper Towns or WGWG. You'll be glad you did.